Building Cleaning Services
Windows – Gutters – Patios – Walls – Solar Panels
PATIO CLEANING
We specialise in all private and commercial aspects of stone cleaning, restoration and Power washing.
WALL CLEANING
Low pressure cleaning and restoration of exterior surfaces. We use special anti mold agents to prevent mold returning.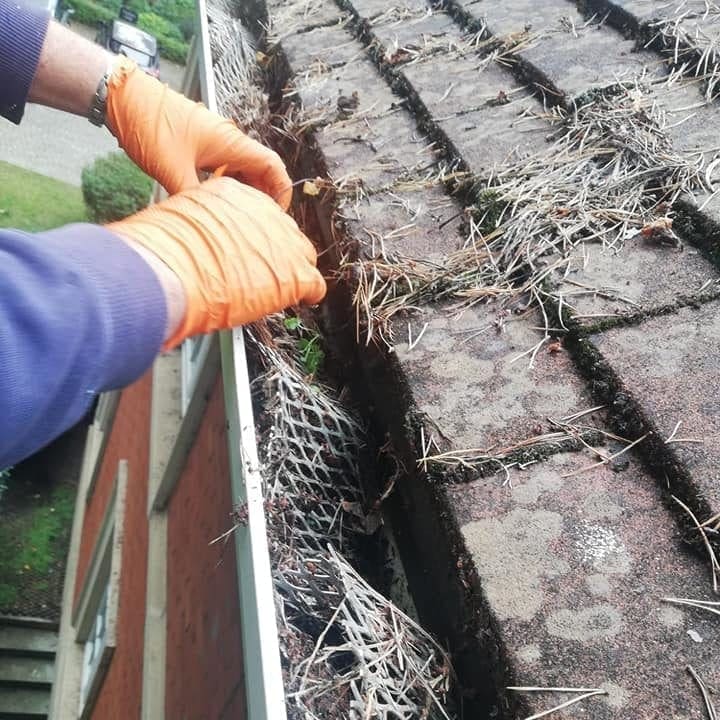 GUTTER CLEANING
 A Fantastic Gutter Cleaning Service That's Fast, Safe & Causes The Minimum Of Disruption To Your Routine.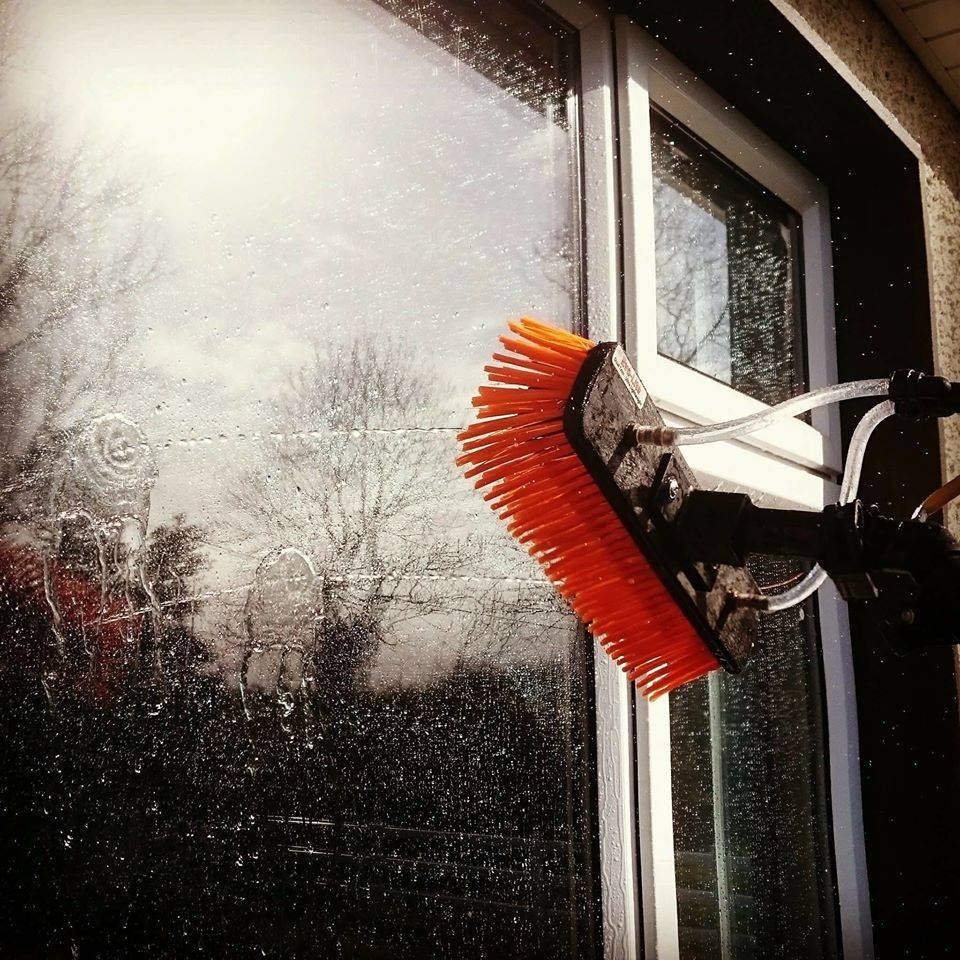 WINDOW CLEANING
Professional Window Cleaning for commercial and residential customers. Interior and Exterior Window Cleaners
Building cleaning services
We provide building cleaning services to homes and shops all over Meath and surrounding areas. We use specialist equipment for our exterior cleaning services including:
long reach window poles
gutter vacuums
special mold agents
Our special tools prevent red mold and moss damaging your house exterior. For more information on our services please read on or if you would like to talk Contact Us today and we will call you back.
Patio Cleaning
Get Patio / Driveway Pressure Washing. All Types Of Dirt & Stains Removed. We work to the highest standards and use eco friendly products to remove mold and moss.
Reliable & efficient service that will not interrupt your day. Book us to visit your property and we will work without you needing to be home. We clean external surfaces, patios, decking, roofs, tarmac, etc on properties all over Meath, Kildare and surrounding counties.
We provide jet pressure washing services including patio cleaning, driveway cleaning, graffiti removal & decking cleaning in Dublin, Kildare & Meath. Look at one of our recent jobs complete for a homeowner in Meath.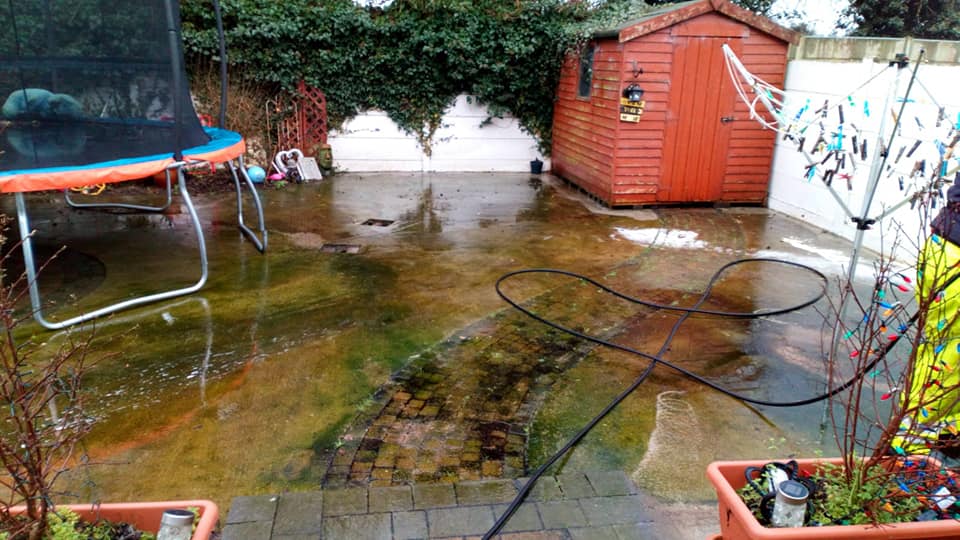 Before this back garden was dirty and the concrete was dangerous and slippy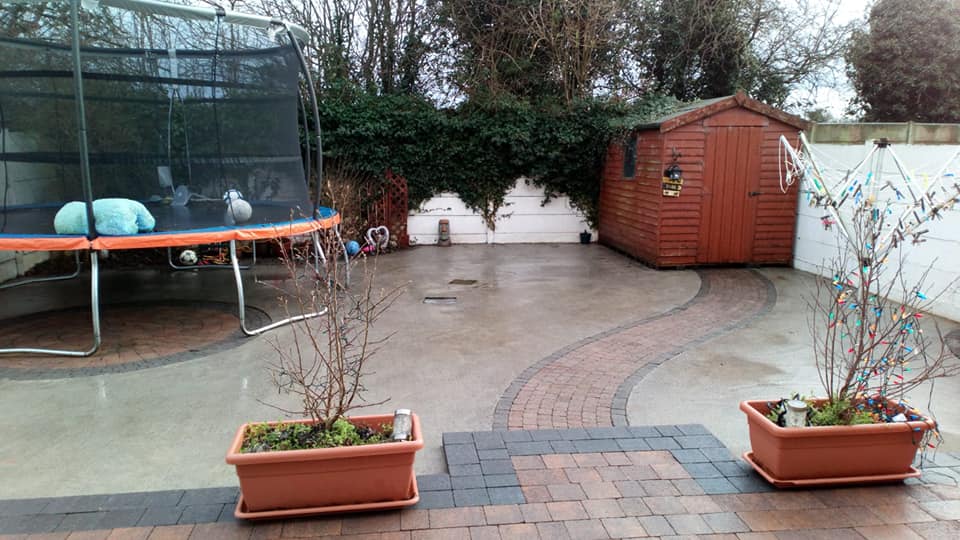 After our patio cleaning service this garden is really clean and safe for the kids to play
Wall Cleaning
Our state of the art building cleaning service will give your house a new lease of life. We use low pressure cleaning tools (softwash) and specialise in the restoration of exterior surfaces. We are experts in removing red mold from building exteriors and use special anti mold agents to prevent mold returning.
Room with a View the company of choice for trustworthiness & professionalism, service removal of mold for Meath area – we are the best in External Building Cleaning Services. Renewing and protecting your roof, patio, driveways and external walls. Our softwash service is gentle but effective which prevents the damage that can occur with power-washing.
Ireland's best soft wash exterior cleaning service. Low pressure cleaning and restoration of exterior surfaces.
Before building cleaning services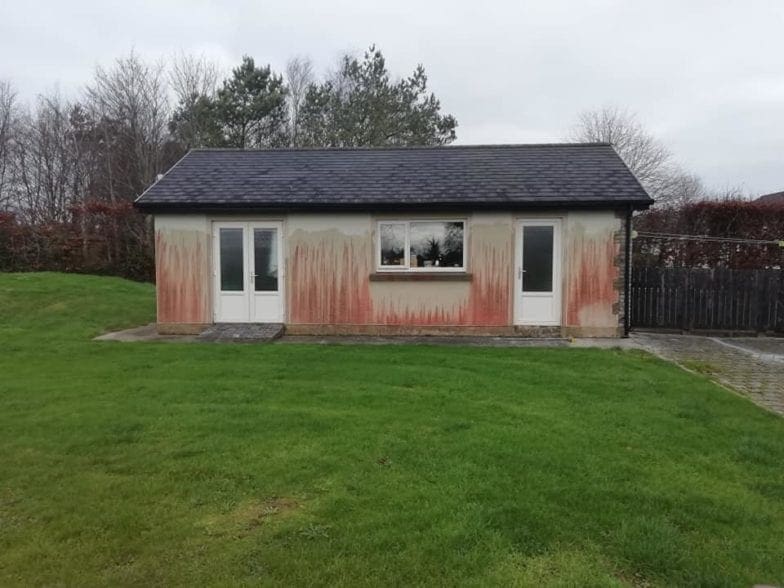 Before this home office looked dirty and was very uninviting with its red mold.
After building cleaning services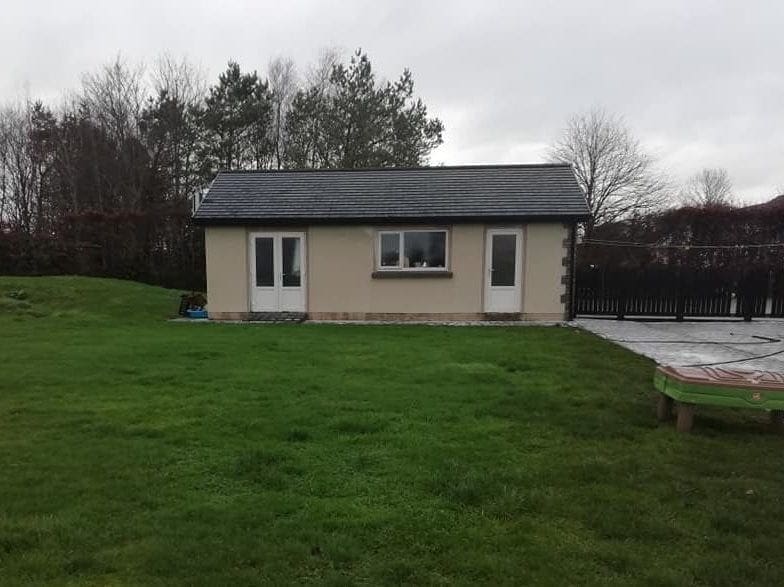 After our wall cleaning this home office looks like a new building and is protected for the future.
Gutter Cleaning
A fantastic gutter cleaning service that's fast, safe & causes the minimum disruption to your routine. Our team can ensure that your gutters are left spotless. Overflowing Gutters Cleaned using specialist vacuum tools and long reach poles. Call Us For Emergency Or Seasonal Clean.
We provide professional gutter cleaning services that are reliable & affordable. Covering all areas of Meath, Kildare, West Dublin and Westmeath. We clear and clean guttering and ensure that downpipes are not blocked. This prevents leaks in your home and improves how rain falls off your building.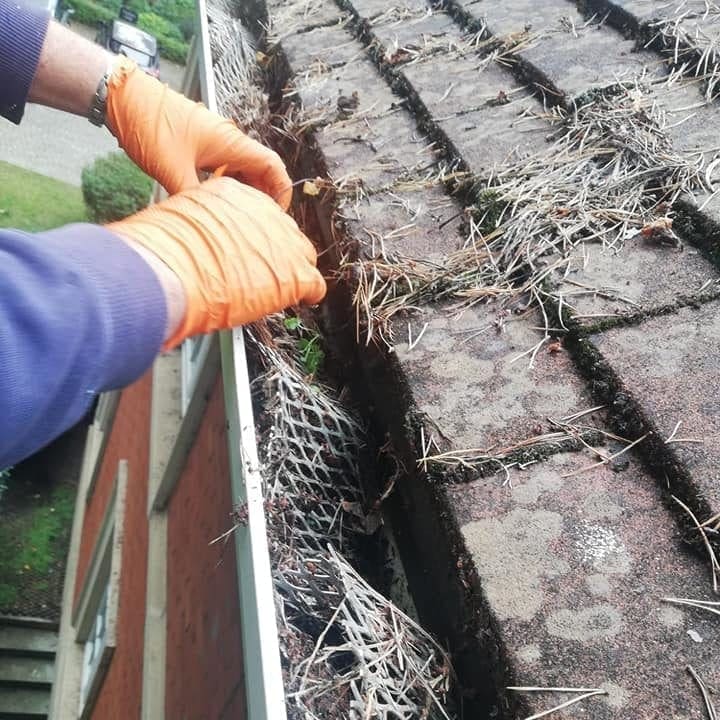 We remove all debris from your gutters preventing future buildups.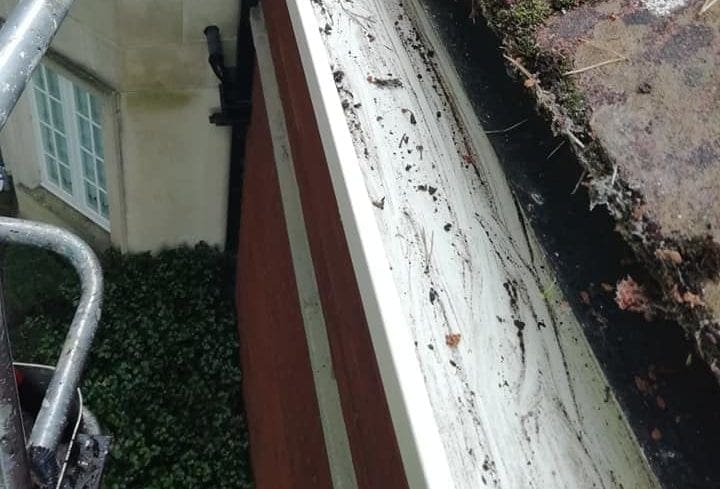 Cleaned Gutter ready for a quick spray hose rinse.
Window Cleaning
Professional window cleaning experts ready to help add value to your home or business. We are based in Enfield Meath and service areas throughout Meath and surrounding area.
We provide regular high quality, efficient and reliable window cleaning . Using long reach poles (up to 40ft) we clean your windows from the ground. No need for ladders or scaffold systems. We use distilled water to ensure that you have Clean sparkly windows every time. We specialise in all aspects of window and facade cleaning using the very latest in water purification and pole cleaning systems.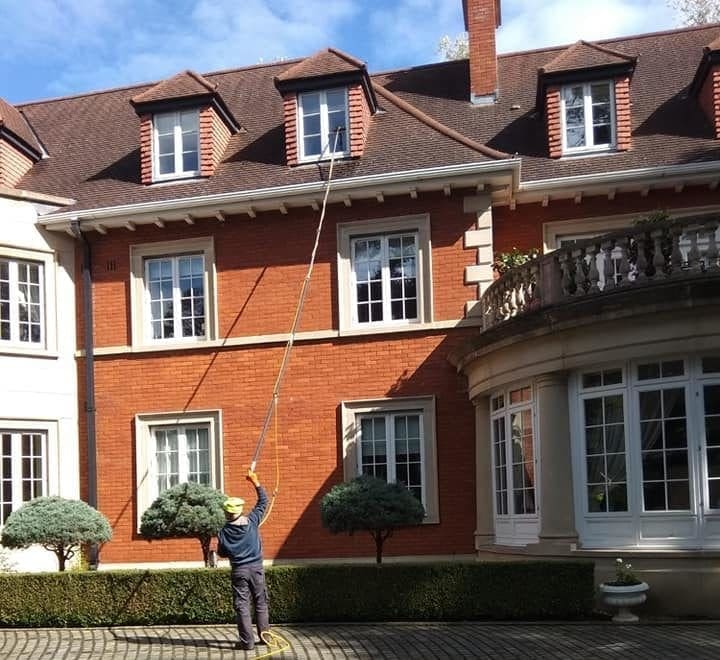 We use long reach poles to clean your windows from the ground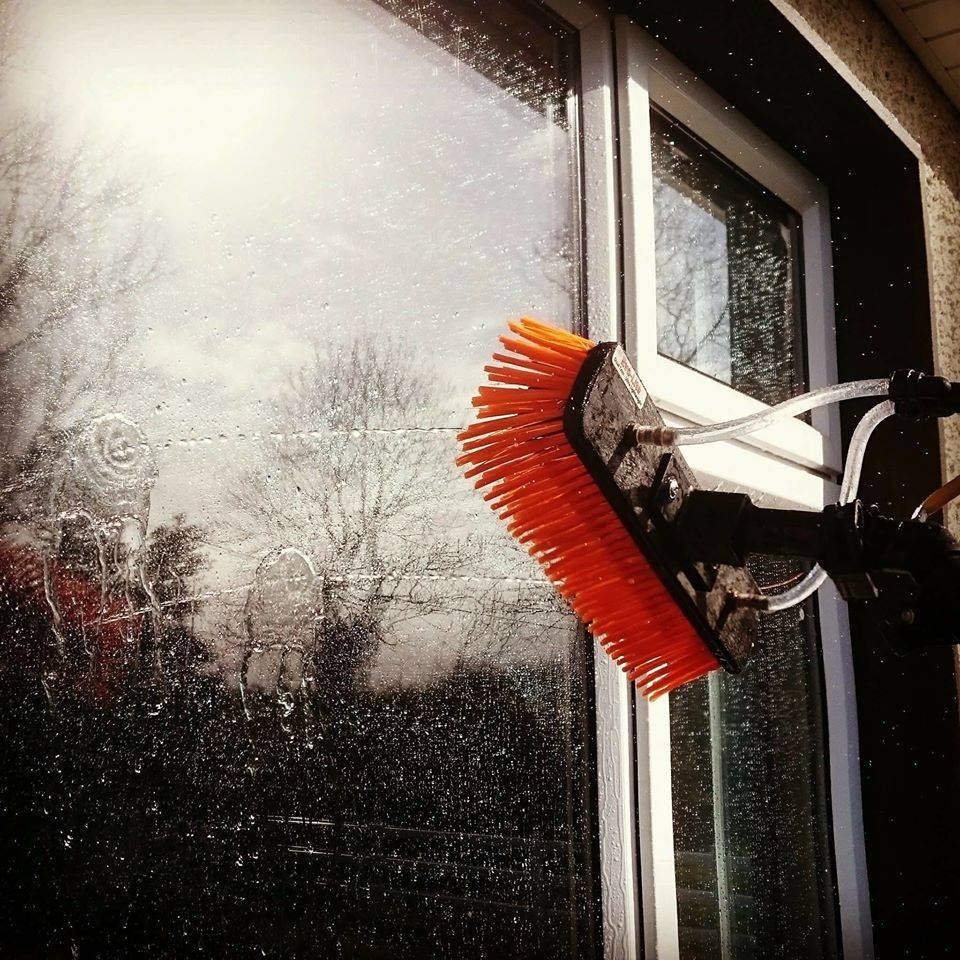 We use distilled water to make your windows and frames shine
Speak with our specialists
We offer various services for cleaning the exterior of your home or business.